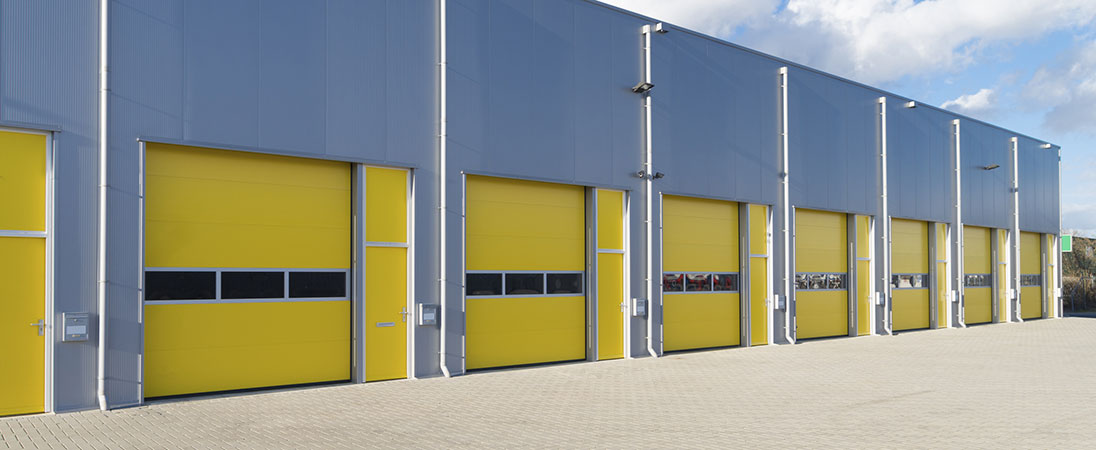 The main job a roll up door performs is being the physical barrier between your warehouse or business and the outside environment while taking up no extra interior or exterior space.  They can also be used inside your warehouse to separate out work processes for high productivity. Roll up Doors are available in many different gauges and sizes to suit any need. Available in heavy duty to light duty, with optional motors, as well as access controls which can also be integrated to an existing door. Various types of rollup doors are offered in different colors to allow the door to match existing décor. We offer maintenance contracts to keep all your doors operating properly. We can service, repair and install rollup doors for any application.
Service Doors are made up of multiple slats; typically 2-3" in height. The total height of the roll-up door is increased by connecting multiple slates for the desired height requirement. Widths are custom cut to the door width requirement.
The roll-up doors are suitable for many uses especially in the warehouse and loading areas.  They are also available as Weather-Edge Doors with perimeter weather seals, as Insulated Doors for maximum climate control, or as Ventilated Doors with perforated curtains for the ultimate blend of ventilation, visibility and security. Counter Service Doors with more compact components and attractive designs can be provided for smaller size openings.
How roll up doors work
When the door is open the slats roll up into a roll and store inside a barrel enclosure that incorporates a spring. This roll-up barrel mounts to the wall above the door opening.  The advantage for this type of door is the interior overhead access is not lost when the door is open.  Small window slat portals are optional to gain visibility from the inside looking out to see when truck or people are outside the door. Insulated slats are also available.
Industrial Roll up doors are made with:
Industrial grade rolling steel doors designed for maximum strength and durability
A unique, structural half hexagonal one-piece hood with integral supports is standard for opening widths of up to 20 feet
A two-part baked-on finish paint system is standard
Guides and head plates are bead blasted to a smooth finish, then powder coated and baked in-house for an extremely durable, standard finish
Chain hoist is standard operation with motor or manual operation optional
Headroom issues are minimized by customized head plate sizes
Rolling steel products utilize a high percentage of recycled content in their manufacture and are entirely recyclable at the end of their life service
High speed roll up doors
High speed roll up doors or performance doors are a lightning fast push of a button to open and close your steel roll up doors.  These doors can open and close at a rate of 100 inches per second and they maximize energy savings from minimizing the time the door is open to the heat or cold.
We also offer maintenance contracts to keep your doors operating properly. Explore our wide range of high speed doors and pick the one that is best for your business.
Austin Doors has been expertly installing and servicing Commercial & Industrial roll up doors since 1990 in San Diego.  We are reliable and have expert technicians to get the job right the first time.