When selecting a door for your office or warehouse, you usually look for materials that can last longer and are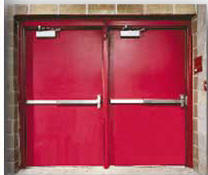 durable. The choice usually comes down to metal and steel. These materials are durable, cost-effective and offer various other benefits.
Hollow metal doors are the most widely opted doors when it comes to warehouses. These doors have earned a flawless reputation in terms of design, cost, material and many other aspects. Here's why:
High Performance
Steel frames and doors offer superior performance as compared to other materials. The natural strength of metal is one reason why these doors offer high performance. Additionally, the door is weather resistance and can withstand tough conditions. With easy maintenance, this door is one of the most preferred by warehouse owners.
Security
Hollow metal frames and doors are ideal solutions for security reasons. In high security conditions, these doors are the best solution. With panic devices and lever style locks, hollow metal doors offer a high level of security in places where it is installed.
Quality and Durability
Hollow metal doors are up to four times more energy efficient as compared to other types of door materials. Metal frames and doors allow less air filtration due to which less energy is lost between the exterior and interior door surfaces.
In addition to this, metal is a material that can be reused without any loss of function, quality or durability. Properly installed metal hollow doors with proper maintenance will last for years, offering cost savings. Repairs aren't costly either. Hollow metal doors possess the lowest cost of ownership as compared to other types of doors and offer high performance.
Can be Customized
Hollow metal doors can be made to order. You can choose the door frames as per your needs and can choose a color according to your preference. There's a wide variety of hollow metal doors, swing doors, mounted on either hinges or pivots. There a number of commercial door companies that offer customization services; thus choose the one that offers the best services.
We, at Austin Doors, offer commercial door repair and installation services. With a wide variety of commercial doors, we make sure that all our customers experience the best services. We work with a talented and skilled team of professionals who are ready to serve you 24 hours, and seven days a week.